Easy Naan | Bread Recipes
Details

Written by

Easy Cool Ways

Category: Naan | Breads
Hits: 4892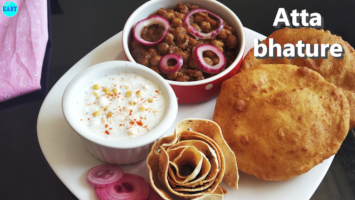 Atta Bhatura | Atte ke Bhature
Bhatura or Bhature is a very popular soft and fluffy deep fried Indian bread served with chole (chickpea curry). Chole Bhature is a north Indian dish. But the combination of chole bhature is very popular in restaurants in all over India
Bhaturas are generally made with refined flour but to give it a healthy twist, like always, I made these with whole wheat flour and hence the name Atta Bhatura and it came really nice. Soft and fluffy from inside and crisp from outside. Exactly the way a bhatura's texture ideally should be, even without using refined flour.Then why use refined flour,when you can get the same result with the goodness of whole wheat.As we all know whole wheat is rich in fibre, folate, riboflavin and vitamins, hence is a better option over plain flour or refined flour.
The method of making dough is also slightly different from the regular one.but if you follow the instructions carefully you would get the good result.Though it needs little bit of pre planning but it is really worth.Fermentation not only ensure the better texture and taste,it is also good for health.
so what are we waiting for let's get started with the recipe.
Click Atta Bhatura Recipe to view Recipe and see how to make Easy Atta Bhatura
Go to Atta Bhatura Video Recipe
Read more: Atta Bhatura | Atte ke Bhature
Number of views on Youtube:

6224
Comments