Easy Breakfast Recipes
Details

Written by

Easy Cool Ways

Category: Breakfast
Hits: 126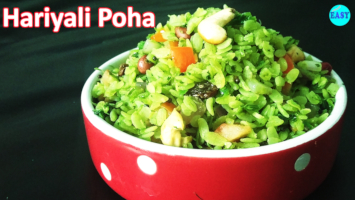 Hariyali Poha | Green Masala Poha | Harabhara Poha
Hariyali Poha or Green masala poha is an easy, healthy and flavourful breakfast recipe that can be prepared within 15 minutes.
It is made with beaten rice or flatten rice which is a good source of Iron and vitamin A and the recipe also includes lemon juice which has vitamin C that ensures the better absorption of Iron, so you get most of the nutrients out of it.
The vibrant green color of this Harabhara poha or green poha comes from freshly ground coriander leaves(cilantro) and mint leaves, which gives it wonderful aroma and flavour too.
It is not only delicious and healthy but also attractive, my kids loves it too with the lovely green color.
You can even add some more color by adding some pomegranate seeds on top which goes really well with it or some fresh coconut if you like. It can also be enjoyed as an healthy evening snack.
It is tasty and satisfying.
Click Hariyali Poha Recipe to view Recipe and see How To Make Hariyali Poha
Jump to watch full Step by Step video for Hariyali Poha Recipe here on YouTube -> Hariyali Poha Recipe Step by Step Video
Read more: Hariyali Poha | Green Masala Poha | Harabhara Poha
Number of views on Youtube:

100
Details

Written by

Easy Cool Ways

Category: Breakfast
Hits: 120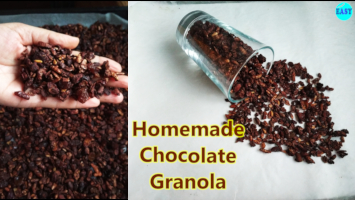 Chocolate Granola
Chocolate Granola recipe will guide you how to make chocolate granola or chocolate muesli at home.
This is so easy that even a child can make it.
Home made is the best and you can customize it according to your liking.
You can use seeds and nuts of your choice.
Click Chocolate Granola Recipe to view Recipe and see how to make Easy Chocolate Granola
Number of views on Youtube:

59
Comments