Easy Pickles and Jams
Details

Written by

Easy Cool Ways

Category: Pickles & Jams
Hits: 394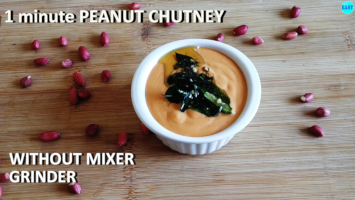 Quick peanut chutney
I am going to share with you an instant peanut chutney recipe.
you don't even need any mixer grinder to make this quick peanut chutney.
It is ready within a minute and only have three ingredients. This can be enjoyed with idly dosa ,uttapam and many more.You can even put some tadka (tempering)over it to take it to the next level. This is just like south Indian style peanut chutney.
Click Quick peanut chutney Recipe to view Recipe and see how to make Easy Quick peanut chutney
Read more: Quick peanut chutney | Peanut chutney for Idli Dosa | Peanut chutney without mixer grinder
Number of views on Youtube:

825
Details

Written by

Easy Cool Ways

Category: Pickles & Jams
Hits: 282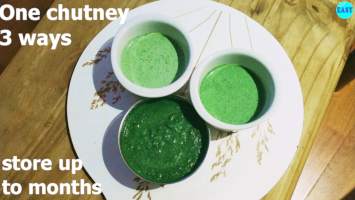 Green Chutney
Green Chutney or mint coriander chutney is an essential in Indian cooking.This recipe is so simple and really gives a nice kick to any chat or snacks.
You just need to make it once and you can make 3 variants of it.The best part is it can be preserved or stored up months and still taste as good as fresh.
The recipe is very easy to follow.
Click Green Chutney Recipe to view Recipe and see how to make Easy Green Chutney
Read more: 3 ways to make Green Chutney
Number of views on Youtube:

220
Details

Written by

Easy Cool Ways

Category: Pickles & Jams
Hits: 692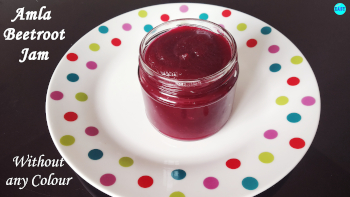 EASY Amla Beetroot Jam
This recipe is a healthy homemade amla (Indian gooseberry) and beetroot jam recipe is not only tasty but also very nutritious and really easy to make.This is prepared without any artificial colour or flavours and it stays good for up to 2 -3 months in the refrigerator.
As we all know amla is highly nutritious and have many health benefits and so is beetroot. But making kids to eat amla is next to impossible .That is why this idea came in my mind so that we can take benefit of these two superfoods in very interesting way that kids will also love. This way you can not only enjoy the benefits of these but also preserve it, as it is available for a short period of time.
Beetroot contains iron which helps improve the haemoglobin and to absorb iron in our body we need vitamin C which is abundant in amla so this is a perfect combo recipe. Apart from this amla also contain calcium, vitamin B5 and B6, copper,iron, Manganese and Potassium. It is the most powerful rejuvenating agent. It boosts immune system and helps prevent cancer and diabetes. Amla helps strengthen the liver thus improve appetite and purify the blood. It nourishes the mind, improves memory power and enhances intelligence.Amla and Beetroot both contain antioxidant properties so it help protect our brain and fight aging ,are very good for our heart, skin and hair.
So lets have a look at the recipe..
Click EASY Amla Beetroot Jam Recipe to view Recipe and see how to make EASY Amla Beetroot Jam
Read more: EASY Amla Beetroot Jam
Number of views on Youtube:

248