Easy Indian Sweets Recipe
Details

Written by

Easy Cool Ways

Category: Indian Sweets
Hits: 141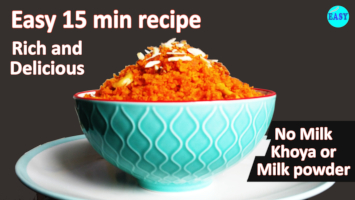 Gajar ka Halwa without milk | Gajar Halwa recipe
I am sharing very unique and easy gajar ka halwa recipe. This Gajar halwa is made without any milk, khoya, condensed milk or milk powder, so it is a vegan friendly recipe too. This Gajar halwa recipe is totally different from the traditional one yet it has the same great taste and richness.
Unlike the traditional recipe you do not have to stir it for so long to make it. This recipe is so simple and so delicious, it takes less time and minimum effort. And the end result is very much close to the traditional recipe, really scrumptious... Though it is much faster and easier. You may not believe it unless you try it yourself.
Gajar ka halwa is also known as gajrela, gajar pak or carrot halwa. It is a very popular and classic Indian sweet or pudding. You will surely find this winter delicacy in every Indian menu, whether it is a restaurant menu or an Indian feast like weding or party, specially in wintes. It is a must winter treat for almost every Indian family.
It is best served warm, but you may also try it cold. You can also enjoy it hot with vanilla ice cream. It stays fresh for a week on the counter top.
Click Gajar Ka Halwa Recipe to view Recipe and see how to make Easy Gajar Ka Halwa
Read more: Gajar ka Halwa without milk
Number of views on Youtube:

110
Details

Written by

Easy Cool Ways

Category: Indian Sweets
Hits: 238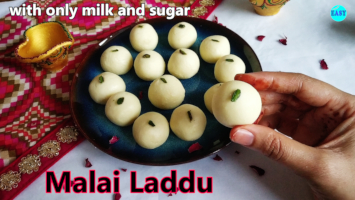 Malai Laddu
Malai laddu or malai peda or sometimes known as Malai ladoo or milk peda.
Malai laddu is a very soft delicious and easy to prepare Indian sweet recipe.
This quick and easy Indian sweet only takes 30 mins to prepare. This milk sweet is made without milk powder ,khova or mava.
Click Malai Laddu Recipe to view Recipe and see how to make Easy Malai Laddu
Number of views on Youtube:

73
Details

Written by

Easy Cool Ways

Category: Indian Sweets
Hits: 259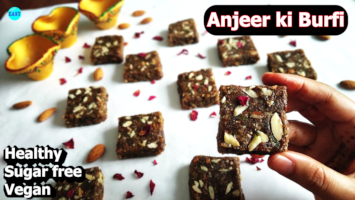 Anjeer burfi
Anjeer Burfi is a healthy sugar free sweet recipe, which is no bake, no cook at all.
Weather you call it Anjeer ki burfi or nut and dry fruit burfi or even energy bars, it is so delicious and healthy sweet and vegan too.
I usually like to enjoy the guilt free treats hence used these natural sweeteners like dates and figs to make this along with nuts, all of these has great health benefits too.
Nuts also helps to give a nice crunch to recipe. Healthy and scrumptious anjeer ki barfi is a very easy and quick Indian dessert to prepare on Diwali and other special occasions.
We usually get it ready made, but making this at home ensure the quality ingredients. Nut and dry fruits which are used are high in vitamins, minerals and anti-oxidants.
So its not only tasty, it also has numerous health benefits. What could be a better sweet to prepare.
This anjeer burfi is a sugar free Indian sweet that can be stored for longer time.
If You use good quality ingredients it has a good shelf life.
Click Anjeer Burfi Recipe to view Recipe and see how to make Easy Anjeer Burfi
Number of views on Youtube:

128
Details

Written by

Easy Cool Ways

Category: Indian Sweets
Hits: 394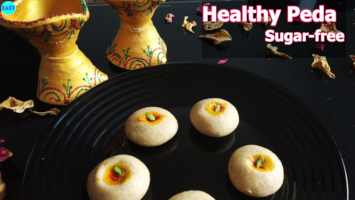 Sugar free peda
Healthy peda is sugar free and rich in protein and nutrient, so it is a healthy treat for this Diwali and is a no cook sweet.
You may also made sugar free Laddu using this recipe.
Unlike the normal peda it does not have any sugar, we have used raisins for sweetness.
Almond flour is also a better substitute for khova(mava) - which you usually don't get pure or is very time consuming to make at home.
Using almonds and raisins increase the nutrient value for this sweet hence you can enjoy the guilt free sweets and don't have to worry about the extra calories.
Click Sugar Free Peda Recipe to view Recipe and see how to make Easy Sugar Free Peda
Number of views on Youtube:

166
Comments