Easy Salad Recipe
Details

Written by

Easy Cool Ways

Category: Salad
Hits: 223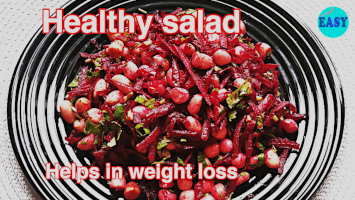 Beetroot Salad | Healthy Salad That Helps In Weightloss
Beetroot salad is a vibrant and nutritious salad that is packed with nutrients and antioxidants that are great for overall health. This healthy salad whether served as a side dish or a main course, beetroot salad is sure to impress with its bold taste and stunning presentation. It typically consists of grated beetroot, which is combined with peanuts, and a tangy dressing. The earthy, sweet flavour of the beetroots pairs well with tangy dressings, creating a delicious and refreshing salad that can be served as a side dish or a main course.
Beets are a great source of fiber, vitamins, and minerals, including folate, iron, and potassium. They are also low in calories and fat, making them a healthy addition to any diet. Beetroot salad is a versatile dish that can be customized to suit different tastes and dietary preferences, and it can be enjoyed any time of the year. Whether you're looking for a colorful and healthy side dish, a light and refreshing lunch, or a tasty addition to your dinner table, beetroot salad is always a great option.
Beetroots also have folate in it which is nutrient inhibitor, so the dress that we are using have lemon in it which compensate the folate making this salad easy to digest and get full benefits of beets.
If you make this recipe, please let us know how it turned out for you! leave a comment below and share a picture on instagram and tag us. We would love to see your creations.
Click Beetroot Salad Recipe to view Recipe and see how to make Easy Beetroot Salad
Go to Beetroot Salad Video Recipe
Read more: Beetroot Salad | Healthy Salad That Helps In Weightloss
Number of views on Youtube:

241
Details

Written by

Easy Cool Ways

Category: Salad
Hits: 1986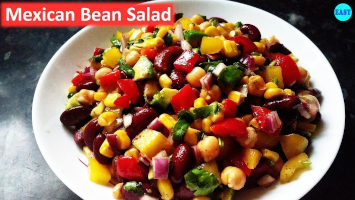 Mexican Bean Salad | Protein Rich Salad Recipe
This protein rich mexican bean salad, also known as three bean salad, is quick, easy and one of my personal favourite salads. This mexican salad is fresh, filling and packed with flavours. If you are bored with your regular salad this will bring your interest back with the amazing taste and interesting textures, it is truly, insanely delicious, you got to try this.
Salads are always a healthy choice, so it is a good idea to try different varieties of it. It will not only build your interest, but the variety of vegetables is also good for your overall health.
It is full of protein yet fresh and light, perfect on its own as a snack or for side dish for dinner. It can be a make-ahead recipe for potluck or dinner parties and could win everyone's heart.
Beans are good source of protein for vegetarians or vegans. Being rich in protein it makes you feel full for longer, hence help in weight management.
The dressing not only enhances the taste but also helps in digestion of protein as it has lemon juice in it and the oil helps absorb the fat-soluble vitamins, so that you can make the most out of it.
Do try it at home and let us know how it turned out for you. Do not forget to take the pictures and share with us on facebook or instagram.
Looking forward to see your creations.
Click Mexican Bean Salad Recipe to view Recipe and see how to make Easy Mexican Bean Salad
Go to Mexican Bean Salad Video Recipe
Read more: Mexican Bean Salad | Protein Rich Salad Recipe
Number of views on Youtube:

169