Easy Drinks
Details

Written by

Easy Cool Ways

Category: Drinks
Hits: 887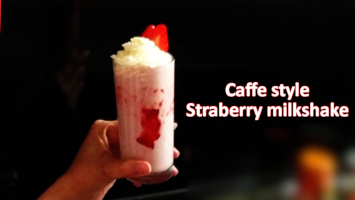 Strawberry Milkshake Recipe | Caffe Style Strawberry Milk Shake
Strawberry milkshake that is full of goodness of fresh strawberries in every sip. It is a must have beverage in the summer, especially when fresh and sweet strawberries are in season. The natural flavour of real strawberries gives amazing taste that it doesn't need any other flavouring.
This classic milkshake is one of the all-time favourites for almost everyone. It is so delicious, creamy and indulgent. Check out the quick video recipe so if you are going to make this.
The gorgeous pink colour of this milkshake looks so pretty and appealing. And the swrill of whipped cream with strawberry on top makes it so divine, who would not love that. If you do not have whipped cream in hand, go for a scoop of vanilla instead.
Wash and pat dry the strawberries before using it into the recipe. You can also use frozen strawberries if you cannot get the fresh ones, it doesn't make any difference to the taste but the texture may be slightly thicker.
You can customize your strawberry milkshake according to your liking. The thickness and sweetness will depend on the amount of ice cream you add. Add more ice crem to make it thicker, you can even skip the ice cream and increase the amount of milk used to make it thinner.
If you make this recipe, please let us know how it turned out for you! leave a comment below and share a picture on instagram and tag us. We would love to see your creations.
Click Strawberry Milkshake Recipe to view Recipe and see how to make Easy Strawberry Milkshake
Go to Strawberry Milkshake Video Recipe
Read more: Strawberry Milkshake Recipe | Caffe Style Strawberry Milk Shake
Number of views on Youtube:

3240
Details

Written by

Easy Cool Ways

Category: Drinks
Hits: 918
Sugar Free Drink | Sugar Free Lemonade Recipe
Looking for a homemade sugar free summer drink that is refreshing? everyone craves for a refreshing drink in the summer season but most of the drinks has a lot of sugar in it so here i am sharing a totally sugar free drink recipe which is natural and so refreshing.
Substituting the sugar with the natural sweetness of fruits is the best idea rather than using an artificial sweetener. Which makes this drink so incredible, and it tastes delicious. Either you call it grape drink, grape lemonade or grape juice it is up to you, it's all filled with goodness of fruit.
Adding mint and some spices like roasted cumin makes it even more interesting. Though i also used little bit of chilli powder to add some interest, but that is totally optional.
This drink can be enjoyed by the people, who are dieting or cannot take sugar for any reason. Though i added little bit of honey or maple syrup, but you can totally omit that, it will still taste delicious.
The lovely colour of this drink stands out and looks amazing, sounds good isn't it. So lets get started with this super fun recipe.
Click Grape Drink Recipe to view Recipe and see how to make Easy Grape Drink
Go to Grape Drink Video Recipe
Read more: Sugar Free Drink | Sugar Free Lemonade Recipe
Number of views on Youtube:

1588
Details

Written by

Easy Cool Ways

Category: Drinks
Hits: 1122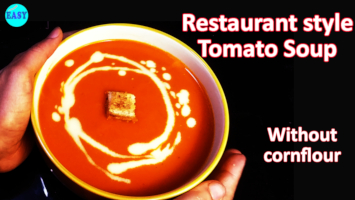 Tomato soup restaurant style | Delicious tomato soup recipe
Tomato soup is bursting with amazing tomato flavour, even though I made it with canned tomatoes, because that is what I had, but you can definitely use the fresh tomatoes, if you have it in hand. The recipe is so easy and simple as always and it provides classic homemade tomato soup flavour.
Tomato soup or tomato bisque is delicious as it is but adding croutons makes it more like restaurant style. I also shared how to make croutons at home, it only takes few minutes and homemade is the best.
It is gluten free since it does n0t need any flour as thickening agent. It can also easily made vegan, Just switch the butter with olive oil and cashew nuts instead of cream see the notes.
Click Tomato Soup Recipe to view Recipe and see How To Make Tomato Soup
Jump to watch full Step by Step video for Spot Idli Recipe here on YouTube -> Tomato Soup Recipe Step by Step Video
Go to Tomato Soup Video Recipe
Read more: Tomato soup restaurant style | Tomato soup recipe
Number of views on Youtube:

92
Details

Written by

Easy Cool Ways

Category: Drinks
Hits: 1907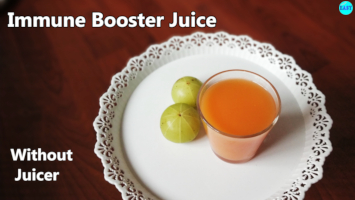 Immune Booster Amla Juice
Amla juice is the most effective immune booster drink and the best detox juice.
It has many health benefits and medicinal properties. Amla is known to be the best source of vitamin C, it has 20 times vitanic C in comparison of orange, hence it helps to build immunity. It also provide other nutrients like Iron, Calcium, Phosphorus and Vitamin B complex, so it not only boost the immunity but also have tons or other benefits, it is good for hair growth, Eyes and skin and overall health.
Taking the amla juice regularly help control blood sugar levels, boost the vision of eyes, improve digestion and also helps in weight loss. It can also aid acidity or heartburn. This nutritious detox drink helps to get rid of toxins and supports liver functioning.
Amla juice is the easiest and healthiest way to include this magic fruit in your diet. Amla has very tangy and slightly bitter taste, so to overcome that I combined it with carrot which compliments it really well and make it even more refreshing.
You can also try our Immune booster chutney recipe to learn one more way to include Amla or Indian gooseberry in your daily life.
Click Immune Booster Amla Juice Recipe to view Recipe and see How To Make Immune Booster Amla Juice
Go to Immune Booster Amla Juice Video Recipe
Read more: Immune Booster Amla Juice
Number of views on Youtube:

5834
Comments