Easy Indian Gravy Recipes
Details

Written by

Easy Cool Ways

Category: Indian Gravy
Hits: 4085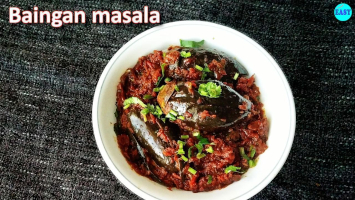 Baingan Masala | Bharwa Baingan Recipe | Masala Baingan Recipe
Masala baingan or bharwa baingan recipe with step-by-step photos and video. Baingan masala is an easy indian curry recipe served with chapati or naan. It is an excellent vegetarian main course or side dish for lunch or dinner. It gives you restaurant like taste in less effort. It can be called with different names like baingan masala, bharwa baingan brinjal curry, eggplant curry, aubergine curry etc.
Brinjal or eggplant is always called the king of vegetables and has a wonderful taste on its own. Eggplant curry can be so versatile, sometimes it is peanut base gravy or coconut, sesame and peanut base as in bagare baingan. The way you cook it, really change the taste of the dish. Today i am sharing the north indian version of it. Though it is so simple with onion tomato gravy, yet special and mouth-watering.
There are different varieties of brinjal available in the market like long brinjal, round brinjal, big brinjal etcetera. For this particular recipe you need the small round ones, preferably violet in colour.
If we talk about the health benefits of the brinjal, it is rich in fibre and antioxidants. It helps to control blood sugar levels and blood pressure. Brinjal is good for diabetic patients and helps in preventing cancer and heart diseases. So why not try it in different recipes.
Do try this recipe at home and let us know how it turned out for you.
Do not forget to take the pictures and share with us on facebook or instagram. Looking forward to see your creations.
Click Baingan Masala Recipe to view Recipe and see how to make Easy Baingan Masala
Go to Baingan Masala Video Recipe
Read more: Baingan Masala | Bharwa Baingan Recipe | Masala Baingan Recipe
Number of views on Youtube:

3508
Details

Written by

Easy Cool Ways

Category: Indian Gravy
Hits: 2317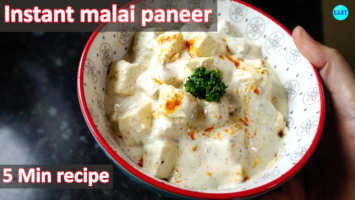 Instant Malai Paneer
Instant Malai paneer is a super easy paneer recipe that you can make in only 5 mins. Recipe is so simple with only few ingredients and you can enjoy the restaurant style creamy delicious white gravy at home. You can say it is an easy version of muglai paneer korma.
It does not need any preplanning or preparations like malai paneer korma, it is an instant paneer gravy. This is the easiest paneer gravy you can make in less time. You can entertain the sudden guests or make it for lunch in busy mornings, in just no time.
This quick paneer recipe does not have onions or garlic so it is a jain paneer recipe as well.
Try this simple quick and easy paneer recipe and share your valuable feedback. We are waiting for them.
If you recreate this recipe, please do not forget to tag us on Instagram or facebook.
Click Instant Malai Paneer Recipe to view Recipe and see how to make Easy Instant Malai Paneer
Go to Instant Malai Paneer Video Recipe
Read more: Instant Malai Paneer
Number of views on Youtube:

911
Details

Written by

Easy Cool Ways

Category: Indian Gravy
Hits: 1605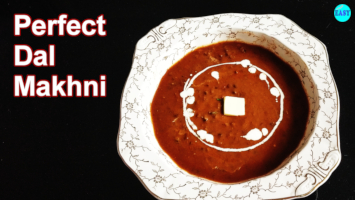 Dal Makhani
Dal Makhani is a must in North Indian menu either it is marriage or a restaurant menu, this is a very common item yet so special and integral part of punjabi cuisine
The recipe is so simple with common ingredients but one should have enough patience to make it.
When it is cooked for longer time it releases starch and gets thicker and creamier.
Rich and buttery taste come from butter and cream added to it during cooking.
In this reipe I've covered all the points you need to remember to master this indian delicacy. It is best served with Naan or Rice.
One more intresting fact about Dal Makhani is that it taste better next day as it develops more flavour and get thicker.
Click Dal Makhani Recipe to view Recipe and see how to make Easy Dal Makhani
Go to Dal Makhani Video Recipe
Number of views on Youtube:

233
Comments