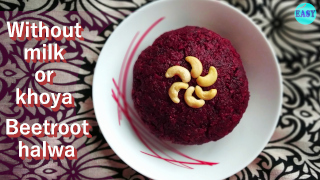 Beetroot halwa
Beetroot halwa is a healthy and delicious dessert for any party or everyday meal.
This beetroot halwa is made without milk, Khoya or milk powder ,Yet it is so delicious and rich in taste that it is liked by everyone. This Indian dessert recipe does not take so long to cook because we do not have to cook and evaporate the milk for so long and the process is also very EASY and simple ,but the result is so scrumptious. I am sure you are going to love it.
Beetroot is rich in iron, potassium, manganese, folate and riboflavin, is also a good source of fibre. Beetroot also contain Antioxidant properties so it is very good for our heart, skin and hair. Beetroot also helps to regulate blood pressure. Hence it is a good idea to include this super food in our diet, but the taste of beetroot is not liked by everyone so we can not include it in our daily life as much .But this is the most delicious way to consume the beetroot you ever know .Even the children enjoy this so much.Furthermore beetroot also contain natural sugar so it need lesser amount of sugar that makes it even more healthier dessert.
So here is the step by step beetroot halwa recipe with all the measurements and the method to prepare beetroot ka halwa, though you can adjust the sweetness according to your taste.
2 tbs ghee
3 cups grated beetroot
3 cups grated carrot
1tbs desiccated coconut powder
¾ cup sugar
½ cup cashew nut powder
Heat a pan and add 1 tbs of ghee(Clarified butter ) then add grated beetroot and carrots .At this stage you may think like you have added 2 different colours but when the halwa is ready it will have a uniform colour.
Mix it well. Cover and cook on medium flame for 5 minutes .
Stir the mixture and add 1 tablespoon of desiccated coconut powder. Mix and cover again for 5 mins.
Mix it well and add sugar and cover again for 5 to 10 mins, stirring occasionally in between.
Most of the moisture has been evaporated. cook for another 4 to 5 minutes or as required stirring continuously on medium heat until all the moisture evaporates.
Now add cashew nut powder and for cook for 5 more minutes steering continuously until the cashew nut powder is all absorbed by the mixture. Cashew nut powder will give the binding and richness to the halwa so that it would taste so delicious inspite of without adding khoya or milk(mava) to it.
Add remaining 1 tablespoon of ghee and cook again for 2-3 mins .it should start separating the pan and should come together to a halwa like consistency.