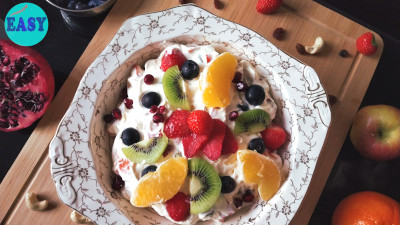 Easy Fruit Cream
Easy Fruit cream Recipe or Fruit salad is a rich creamy dessert with all the goodness of fresh fruits which gives it very unique and refreshing flavour. It neither has a lot sweetness nor less to satisfy your sweet tooth which makes it perfect dessert for any occasion or a pot luck party. It is an easy, no cook dessert which only requires 10 minutes to prepare. Just whip some Fresh Cream and mix it with the fruits of your choice
You can certainly beat the heat of hot summer while enjoying this refreshing dessert but it can also be a great alternative over ice cream in winters as well. And if your kids are fussy eaters this is the best way to feed them with a lot of fresh fruits .They would definitely enjoy this scrumptious preparation.
So here is the How to Prepare Fruit Cream with all the measurements, though you can adjust the sweetness according to your taste.
500 ml double fresh cream/whipping cream
200 ml sweetened condensed milk(or powder sugar)
1 pinch saffron/vanilla essence(optional)
1-2 apple
1 persimmon
1-2 kiwi
1 cup papaya
1 cup red and green grapes
1 cup strawberries
1 cup blue berries
1 orange to garnish
1 pomegranate
1 tbs chopped almonds
1 tbs chopped pistachio
1 tbs chopped cashew nuts
1 tbs raisins
Chill the cream, whisk and bowl in refrigerator. Soak saffron in a tablespoon of water or milk.(it gives better colour and flavour in water rather than milk)
Add cream to the bowl and whisk until the soft peaks start to form. It may take 5-to 7 mins.
Add condensed milk and saffron and mix it well. Refrigerate while you get the fruits ready.
Peel and chop the fruits in to bite size pieces.Chop dryfruits if using.
Mix fruits and cream together and add dry fruits.
Garnish with fruits and serve chilled.
Easy fruit cream is an all time dessert that you can prepare in all seasons. I hope you would like this fruit cream recipe and will prepare this at home. Do remember to share this easy how to prepare fruit cream with your friends and family so that they can also get a chance to taste this wonderful and easy fruit cream at home.
Please share your comments here on
Instagram