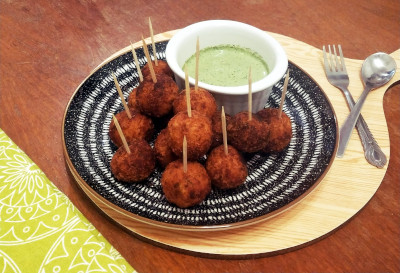 Easy Dahi Kabab | Dahi Lollipops
Dahi lollipops or Dahi ke kabab is a tasty restaurant style appetizer or starter recipe. Dahi kabab is creamy and melt in mouth veg kababs that has crispy outside coating which compliments the creamy kababs really well.
It only need few ingredients to prepare and is an easy way to impress your guests.Dahi ke kabab is a quick and easy snack that no one can resist. Making these can be little tricky as it needs a perfect balance of moisture in it.Less binding can result in breaking it and too much means loosing the creaminess.So here I bring the step by step easy dahi kabab recipe to guide you so that you can enjoy the yumminess.
So here is the step by step dahi kabab (dahi lollipops) with all the measurements.
1 cup hung curd
¼ cup grated paneer
1-2 tbs processed cheese(grated)
1 nos green cardamom crushed
1 pinch cinnamon powder/garam masala
To taste salt
1 pinch black pepper
¼ tsp jeera powder
¼ tsp red chilli powder
1 tbs roasted besan(chickpea flour)
To make hung curd - Take a big bowl and place strainer over it lined with muslin cloth.Tie 3-4 cups of curd in a muslin cloth and keep in the refrigerator for 10-12 hours or overnight
Take 1 cup of hung curd in a bowl,add grated paneer and cheese.
Add green cardmom powder,cinnamon,salt,black paper,jeera powder and rosted besan.Mix it well
To shape the kababs place one tablespoon of mixture between your palms and roll in to small balls.
Now coat the balls in to bread crumbs then roll again between your palms to stick well to the kababs and repeat the process one more time to get the crispy coating of bread crumbs on kababs.
Deep fry the kebab till it turns golden brown. fry on high flame and turn them occasionally to cook evenly from all sides.
Once cooked, serve immediately with spicy chutney or tomato ketchup.
Notes
Do not add chat masala to these kababs as sourness of curd is already there. Use fresh curd to avoid too much sourness.
Little amount of sugar can be added to balance the sourness(if required)
Leave the hung curd uncovered in the fridge for few hours to get extra thick hung curd that will need less binding agent(besan).
Use roasted besan to avoid raw taste in kababs. Alternatively you can grind rosted chana dal.
Do not turn these too quickly to avoid breaking.