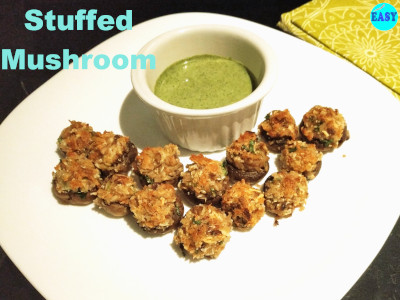 Easy Stuffed Mushroom
Stuffed mushroom is a healthy non fried party snack that can be your next party favourite and is really simple and easy to make. All you need just a few ingredients and 10 minutes to prepare this and leave the rest to the oven. You can even make them ahead and just pop it in the oven when you need it and you are good to go .So it comes really handy when hosting a party.
Mushrooms contains a variety of vitamins and minerals and it is one of the few sources of vitamin D for vegetarians. These are low in calories and fat free .So having mushroom as an appetiser that too without frying these is absolutely a win win
The stuffing that is used in it has bread crumbs and cheese that is flavoured with garlic. Once it is baked the breadcrumb stuffing dance Golden and crisp which really compliments tender and juicy mushrooms and the flavour of garlic goes really well with it. So you definitely have to try these .You gonna love it .don't forget to pin me I would really love to see your creations.
Use these simple ingredients and make in less than 10 minutes time .
follow here to find how to make stuffed mushroom.
Go to Easy Stuffed Mushroom Video Recipe
White Button Mushrooms 15 -20 nos(300 gms)
Homemade Fresh Breadcrumbs from 2 bread piece
Cheddar Cheese 1 tbs
Mozzarella Cheese 1 tbs
3 Cloves of Garlic, minced
3 Tbsp of Fresh Chopped Parsley
4 Tbsp of Olive Oil
Salt and Pepper to taste
Wash and dry the mushrooms well
Detach all the stems from the mushrooms with the help of spoon scrape the inside of the mushroom to make cavity for the stuffing.
Take fresh bread and make gorse bread grams how to fit you can either use a blender or the fruit processor to do this or you can even drop the bread finely
Finally job the stance of the mushrooms and take it to a mixing bowl add the fresh bread crumbs to eat and season with some minced garlic finely chopped green chillies Mozilla cheese cheddar cheese salt and pepper some freshly chopped cilantro (coriander )a couple of tablespoon off olive oil or melted butter
Mix everything together and and stuff the mixtures into the mushrooms we prepared earlier
Fill the stuffing generously and press it to get most out of it as this will gonna give the amazing paste to the recipe
Now arrange these into a Least pleased pleased baking dish.drizzle some Some olive oil on the Top
Bake it into created created oven add 200 degrees centigrade for about 20 to 25 minutes or until the Top is crisp and Golden Brown
Wait for few minutes before dig into these yummy and juicy stuffed mushrooms. Enjoy hot with any chatni or dip
notes:
while adding the salt remember that cheese has already salt in it so add accordingly You can use the process cheese instead of the mozzarella or cheddar instead of olive oil melted butter can be used but olive oil goes really well and gives the amazing flavour to the dish Be generous with the garlic end cilantro as it gives the amazing flavours you could also replace cilantro buy parsley
If you are a sweet lover also try my other easy sweet recipes like Easy Beetroot Ka halwa, Easy suji ka halwa, Easy fruit cream to satisfy your sweet tooth, and if you want more snacks see Easy Dahi Kabab
If you try this recipe please let us know about your feedback here in the comments section and also share your pictures would love to see your creations .
Easy Stuffed Mushroom Video Recipe: