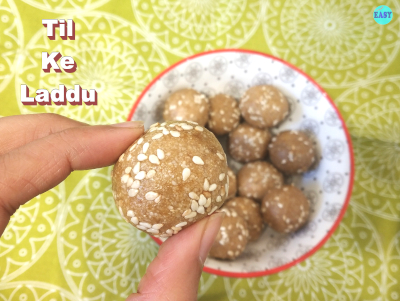 Easy Til Ke Laddu
Til ke Laddu is a very healthy snack or rather sweet especially in the winters season as Til (sesame seeds) or some time called till helps to keep our body warm.Til also contain high amount of calcium so it is good for bone health . Using jaggery(gur)as a sweetener also makes it a healthier Indian sweets, as we all know jaggery has more nutrients than sugar because of molasses content. Though it is still sugar but have some extra nutrient not just empty calories like refined sugar.
Til ke laddu(sweet balls) or some time called as til ke ladoo is a traditional Indian sweets.It is especially prepared during Makar Sankranti in almost all over India and it has many variations too like til mava(khoya) laddu and chashni wale til ke laddu, tilkut and many more.
This recipe is so easy to make, it only takes 10 minutes to prepare these yummy laddus and they are so delicious even without adding Khoya or milk powder.So it is definitely a great way to have something healthy .
Simple ingredients simple recipe and so easy to make in less time it is really an easy deal.
follow here to find how to make til ke laddu.
White sesame seeds (Til) 2 cups
Jaggery(gur) 2 cups
Cardmom 2 nos crushed(optional)
Though you can adjust the sweetness according to your taste and also depends on the type of jaggery you are using ,these are the measurements which works perfectly for me.You can check and adjust the amount of gur before shaping the laddus.
Dry roast sesame seeds on medium flame string continuously do avoid burning.
Roast until slightly change in colour and little puffed up.
Take out in a plate and let it cool slightly.
Great or chop the Jaggery into small pieces and keep aside.
In a mixture jar take 1 cup of roasted sesame seeds and grind it into a powder .
Do not over do the mixture should be slightly sticky.
Now add 1 cup of choped jaggrey and pulse few more times to incorporate Jaggery into the mixture.
Take out in a bowl and repeat the process one more time for the remaining sesame and Jaggery.
Press between your hands to shape the laddos.
Roll it into roasted sesame to garnish.This step is optional.
Store in an airtight container and enjoy .
Notes
While roasting the sesame seeds keep the heat on medium to low and stir continuously to avoid burning.
Keep an eye towards the end of roasting the sesame seeds as it change the colour too quickly in the end.
If you are a sweet lover also try my other easy sweet recipes like Easy Beetroot Ka halwa, Easy suji ka halwa, Easy fruit cream to satisfy your sweet tooth
If you try this recipe please let us know about your feedback here in the comments section and also share your pictures would love to see your creations .