Easy Desserts Recipe
Details

Written by

Easy Cool Ways

Category: Desserts
Hits: 896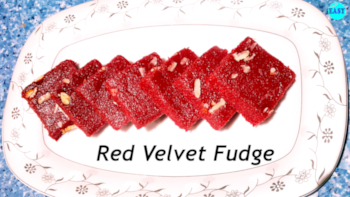 Red Velvet Fudge | Easy Beetroot Burfi
Red velvet fudge recipe is made without chocolate and any artificial colour still it will give you that creamy melt in mouth texture that traditional red velvet fudge have. It is also known as Beetroot Barfi, Though the taste is different from the traditional red velvet fudge which is made with white chocolate and condensed milk, but definitely delicious and healthier too. This recipe comes with all fresh and natural ingredients which makes it a healthier version.
As the name suggest this sweet should have velvety soft texture and red colour. I used the beetroots to give it vibrant red colour and fresh milk instead of condensed milk. To make it easier and quicker I used milk powder that provides the creaminess as well. This sweet recipe can be made for any special occasion like Christmas, Diwali or any party or get together and also can be wonderful gift to share the happiness.
The recipe includes a little cooking but to enjoy good food it is worth it. I am sure you are going to love this one. As we all know that beetroot is consider a superfood because of its nutrient content, it also have natural sugar in it. The interesting fact is that beetroots are also used to make sugar. So having beets in our dessert itself decrease the amount of sugar needed to make the sweet.
So lets get started with the healthier version of Red Velvet Fudge recipe.
Click Red Velvet Fudge Recipe to view Recipe and see how to make EASY Red Velvet Fudge
Read more: Red Velvet Fudge | Easy Beetroot Burfi
Number of views on Youtube:

683
Details

Written by

Easy Cool Ways

Category: Desserts
Hits: 956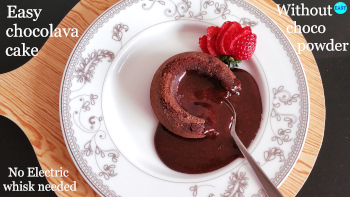 EASY Chocolate lava Cake
Easy Chocolate lava cake or molten chocolate cake is an easy way to impress someone and are super easy to make with this recipe that anyone can prepare within 15 minutes.You do not need any special tools and equipment like electic hand blender to whip up this cake.The recipe is so easy with simple ingredients that you may already have in your home. So you don't have to go to the restaurant to enjoy this chocolate treat.
Choco lava cake's name derives from the its liquid chocolate center,which is so gooey and insanely delicious.This small batch dessert is so handy that you can enjoy whenever you have the sugar craving.This recipe will make two servings.,making sure you don't overdo it ;).
Chocolate molten Lava Cake is so decadent rich and seems to be so tricky but here we came with wonderfully easy recipe with only 5 ingredients. It only take less than 10 minutes to whip this up which makes it a comfortably easy way to satisfy your sweet tooth.
And the best part is that you can even make this better in advance and store it in the fridge and whenever you need it take the better out of the refrigerator 1 hour before baking it
Click here to view Easy Chocolate lava Cake Recipe and see how to make easy Chocolate lava Cake
Read more: EASY Chocolate lava Cake
Number of views on Youtube:

307
Details

Written by

Easy Cool Ways

Category: Desserts
Hits: 4773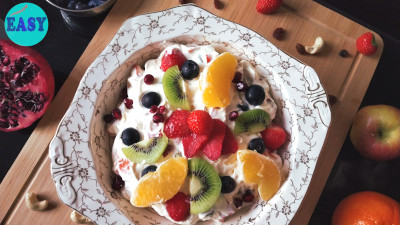 Easy Fruit Cream
Easy Fruit cream Recipe or Fruit salad is a rich creamy dessert with all the goodness of fresh fruits which gives it very unique and refreshing flavour. It neither has a lot sweetness nor less to satisfy your sweet tooth which makes it perfect dessert for any occasion or a pot luck party. It is an easy, no cook dessert which only requires 10 minutes to prepare. Just whip some Fresh Cream and mix it with the fruits of your choice
You can certainly beat the heat of hot summer while enjoying this refreshing dessert but it can also be a great alternative over ice cream in winters as well. And if your kids are fussy eaters this is the best way to feed them with a lot of fresh fruits .They would definitely enjoy this scrumptious preparation.
So here is the How to Prepare Fruit Cream with all the measurements, though you can adjust the sweetness according to your taste.
Number of views on Youtube:

5
Details

Written by

Easy Cool Ways

Category: Desserts
Hits: 1669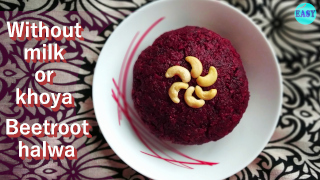 Beetroot halwa
Beetroot halwa is a healthy and delicious dessert for any party or everyday meal.
This beetroot halwa is made without milk, Khoya or milk powder ,Yet it is so delicious and rich in taste that it is liked by everyone. This Indian dessert recipe does not take so long to cook because we do not have to cook and evaporate the milk for so long and the process is also very EASY and simple ,but the result is so scrumptious. I am sure you are going to love it.
Beetroot is rich in iron, potassium, manganese, folate and riboflavin, is also a good source of fibre. Beetroot also contain Antioxidant properties so it is very good for our heart, skin and hair. Beetroot also helps to regulate blood pressure. Hence it is a good idea to include this super food in our diet, but the taste of beetroot is not liked by everyone so we can not include it in our daily life as much .But this is the most delicious way to consume the beetroot you ever know .Even the children enjoy this so much.Furthermore beetroot also contain natural sugar so it need lesser amount of sugar that makes it even more healthier dessert.
So here is the step by step beetroot halwa recipe with all the measurements and the method to prepare beetroot ka halwa, though you can adjust the sweetness according to your taste.
Read more: EASY Beetroot ka Halwa
Number of views on Youtube:

5
Details

Written by

Easy Cool Ways

Category: Desserts
Hits: 1613
Easy Suji Ka Halwa
Suji ka halwa is also known as rava kesari or semolina halwa is an quick Indian dessert made with semolina,ghee and sugar.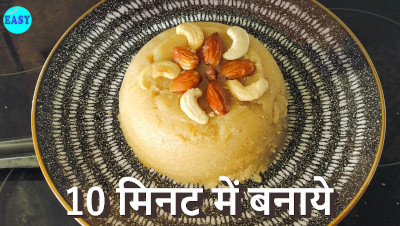 Suji ka halwa is made in almost every Indian house in all over India but the process of making it differs slightly.Suji halwa is also often made and offered as the prashad.
Suji ka halwa is also very good for growing kids as it has good amount of ghee which is good for bones and brain.Here we present very quick and easy recipe of north Indian style of suji ka halwa which will give you perfect result all the time.
Below are the ingredients and the methods on how to make suji ka halwa
Number of views on Youtube:

390